How it happens in 3 steps
More than just music to create the time of your life
1st Step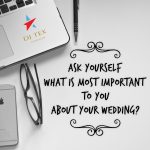 Let's dance, by talking. The first step is to talk about your wedding day. A sit down interview session to discover your vision and love story. Over 10 years of experience as an Iowa wedding DJ, we can explore countless ideas, that pop to life for an Iowa wedding. We will discuss production elements available. Sound for the venue, music for ceremony, microphones for ceremony, wireless capabilities, floor plans, dance floor lighting, venue decor, HD projector dynamics, timeline, and import details. What you want, and what you don't want. This is the time to find out about my personality. I'm not selling you a wedding reception in the box to open at the venue. We collaborate on an amazing celebration with Wow! Wow moments are small spontaneous elements that your guest will remember long past your final dance and exit. All inclusive fee as creative director and wedding DJ covers planning, production elements and day of event performance in a 12 hour time frame. $1300 including a 25% ($325) retainer fee due at agreement of terms and contract signing. Remaining fee balance of $975 due 30 days before the day of event. Limited engagements are available. Find Iowa dj services for Cedar Falls, Waterloo, Cedar Rapids, Iowa. A modern day wedding designed with your vision that exceeds expectations.
2nd Step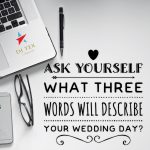 Congratulations to us! After terms and agreements are finished. I'm all in as the Iowa Wedding DJ Director. Available around the clock , I will be available for questions and adjustments up to wedding week. With preparation and participation from both you and me, marriage week will be worry free about the DJ entertainment. A few sit down planning sessions will be conducted to create the timeline. In the planning sessions many small details can blossom into big WOW moments. Choreographed celebration that is a party. Background music style, grand entrances, cool specials, select dances, song requests, people features, wedding traditions, crowd interaction, slide picture show, dynamic names in lights, and features showcasing your love story and life story. WOW moments are created. The timeline is scheduled with your desires. You might want a cool wedding without dance specialties, just eats, drinks, and a hopping dance floor. CVDJS is a brand of DJ entertainment that caters to your needs. Be Cedar Falls, Cedar Rapids, or Cedar Iowa…Iowa DJ Services for Waterloo, Waverly, Iowa City, Wedding fun that's authentic,unique,creative and stylish. Let's Dance.
3rd Step
Showtime, Signed, Sealed, and Delivered… Let's do this!
The time of your life is next.
Iowa DJ Services for Waterloo, Waverly, Iowa City