Brian DJTeX
On the road
DJTex has been playing music since the first days out of a Texas high school 30 years ago. Founded in 2018, CVDJS is created to serve couples located in northeast Iowa. Personalized, modern wedding day for Cedar Falls, Cedar Rapids, Iowa City, Independence, Waverly, and more. DJTeX is committed for an extraordinary day of event . The long winding road began in the days of crates of vinyl records and the spinning of the cassette tape with a #2 pencil. That is DJ history. After moving to Iowa in 1993 and loving every minute of the upper mid-west, he advanced to the cool tech of CDs, 'compact disc' That is DJ history. Carrying 5000 CDs was no easy task, but the dance floors kept calling, DJTex. The world keeps turning, and spinning-CDs morphed into MP3s. The music collection expanded to over 75,000 songs. Today music lovers get millions of songs instantly. Pick your song, Tex will have the track. DJTex Iowa wedding DJ, Cedar Falls-Cedar Rapids Let's Dance!
DJTeX Style
Showtime
What to expect from DJTeX? All styles of music is his passion. Cool wedding coordinator. Knowledgeable song experience with audio/video technology & expertise with the microphone:
Preparation- DJTeX knows how to appeal to every audience. Studying current trends will determine song selections, most likely to be appreciated by all guests, and enhancing the overall feel of the dance.
Production- DJTeX specializes in light and sound design. Advance COB software controlled lighting is photo and video advantageous. He will work to design HD projector video dynamics that appeals to the decor of the night while staying true to your wedding vision. Pro Sound from Bose and DenonDJ will cover the entire room. High performance Audix wireless tech will guarantee no audio drop outs. Avoid the stress of guests not being able to hear speeches, readers, vows, singers, officiant, and the special moments of your event. Production gear will not be an ugly sight at your party.
Performance- DJTeX wants everyone on the dance floor. Levels of your party will grow thru the evening beginning with the start'em up, specials/traditions, family fun, party mode, dirty dancing, and ending with the exit send off. You can expect a pleasant mix of music and a night about you with skillful mic command. He has industry event training, so your guests will always know what-where-why, without the amateur-screaming-cheesy-clumsy-dj. All guests are respected with a smile. Find Wedding DJ near me. DJTex Iowa wedding DJ, Cedar Falls-Cedar Rapids. CVDJS is stress-free entertainment with a touch of class.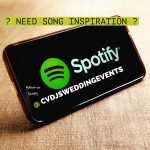 DJTex Iowa Wedding DJ, Cedar Falls-Cedar Rapids
Celebration scoreboard
Goals for your celebration "it's not what i do, it's how i do it":
be respected- Tasteful crowd interaction with personal highlights , making memories, and dance floor fun.
be inspired- A day of unique ideas , innovative interactions and simple highlights.
be amazed- A relaxing celebration so you have fun as your timeline plans roll thru favorable and smooth all day.
be loved- A wedding celebration created & designed for your family and friends. You are the host, DJTeX is your creative partner. It's your wedding with your style and music. Over the top flair or laid back & cruise wedding reception.